There is nothing more important than prayer in our mission to save unborn babies and abortion-bound women. The most powerful prayers of all are those offered right outside the abortion clinics where women are wounded and babies are killed.
Your prayers on the sidewalk outside an abortion clinic help support the efforts of pro-life sidewalk counselors to offer abortion-bound mothers the help they need to choose life. Your prayers help open those women's hearts to life. They may even help convert those working in the abortion clinic. Use the directions below to have an effective hour of prayer:
Important: To protect yourself from false accusations by abortion clinic workers or hostility from the general public, never go to an abortion clinic by yourself. Find a pro-life friend who is willing to join you, or connect with other activists in your area.
Find out if there is an organized pro-life presence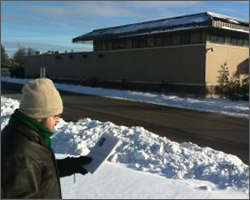 Before you head out to your local abortion facility, try to find out if there is an organized prayer and sidewalk counseling presence in your area that you could become a part of to be sure you're going out at the most effective and needed time. Respect Life directors of local churches or your county or state Right to Life group would be good places to look for that information.
Locate your local abortion facility
To find your local abortion clinic, you can simply enter a google search for "abortion clinic near me" or visit the website of Planned Parenthood, the nation's largest abortion chain, who is likely to have a facility near you. Just enter your zip code on their site for a list of clinics in your area.
Be sure to check the clinic's hours and, if at all possible, go when they will be open. But if work or other commitments make that impossible, even praying outside the clinic when they are closed can be a powerful witness.
Where and how to pray
When you find your clinic and have chosen your time, find a place on the public sidewalk or other public right-of-way where you can offer prayer without disrupting the activities of any pro-life counselors on site. For tips on finding out where public property is, see the League's page Learn to distinguish public property from private property.
Pray in whatever fashion suits you—Scripture reading, the Rosary, interior prayer, hymns, etc.—but pray quietly, to be heard by God and His angels, not passersby.
Offer prayers for the abortion-bound women in the clinic. Pray for their babies. Pray for the clinic staff to be converted. Pray for any pro-life counselors who are there. If you see a specific woman entering the clinic, pray for her and whomever has brought her to the clinic that day.
A great resource for prayer is the Pro-Life Action League's Life Witness Prayer Book, which contains four sets of prayers, each centered around one set of mysteries of the Rosary, which take approximately one hour each to pray. Order a copy at the League's Activism Store today! The League also has prayer resources for those coming from religious traditions other than Catholicism here.
And remember that your prayers always bear fruit, even if a woman you're praying for goes through with the abortion. Part of why we are there outside the abortion clinics is to witness to the value of the lives of the babies who are aborted there. We're also there to pray for the woman who has had an abortion to repent and be healed.
If you need any help getting involved in prayer at your local abortion facility, please contact the League and we'll provide any help we can.