Yesterday morning, my crew and I raced up to Belvidere, Illinois to protest Joe Biden outside a speech he was giving to the United Auto Workers there.
The protest was very last minute. The Biden Administration always waits until the "morning of" to reveal his travel plans. If their goal is to scuttle protests like mine, then they totally failed!
Here I am with a few of the volunteers who joined me to protest Biden's abortion extremism: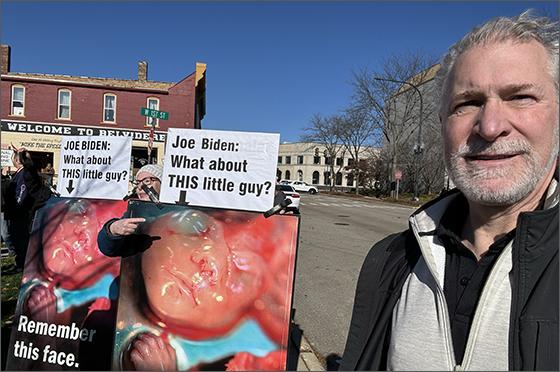 We wanted Joe Biden and his staff to see the reality of abortion.
He's spent his career calling himself a champion of the "little guy" like the auto workers, but he throws our unborn brothers and sisters — the littlest guys of all — under the bus.
And I'm happy to report that he did see the reality of abortion up close when his motorcade left the event!
He's right there in that limo with the American flags on the hood: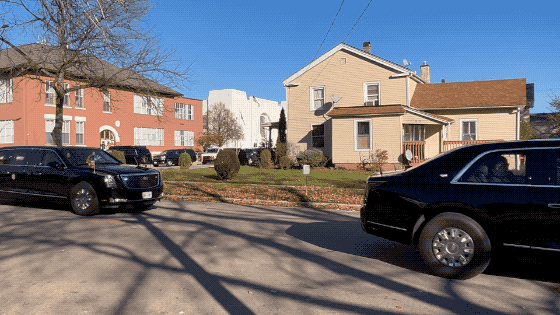 And here's a view of the crowd he was driving past, including a dozen large abortion victim signs and our "Abortion takes a human life" banner: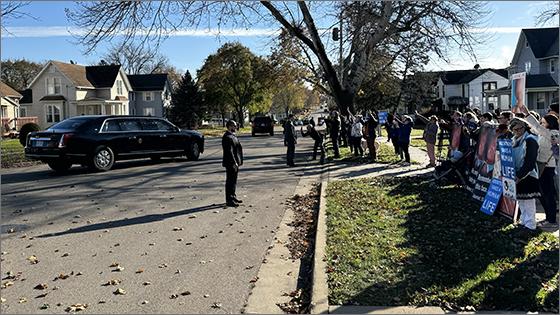 Isn't that incredible?
I was so proud of the dozens of volunteers who stayed for several hours just to have the chance to show the president this display!
This is the fourth time we've gotten the opportunity to protest President Joe Biden in our headquarters state of Illinois, and it probably won't be the last.
I think it's vitally important that we keep these images in front of the most powerful man in the world. Do you agree?
If you agree that we must keep showing Biden what his extreme abortion policy really means for unborn children, you can help me get ready for the next Biden protest with a gift.
Because protests like this don't come for free!
Gas for my van, printing signs, communications tools to recruit volunteers — it all costs money! And especially in Joe Biden's economy, it costs A LOT.
It's great to have pro-lifers like you as part of the Pro-Life Action League team. I hope you'll keep those prayers and support coming as I prepare for our next big adventure!